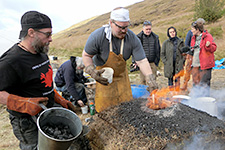 In August 2019, Hurstwic and
Eiríksstaðir
held a festival in Iceland,
Járngerðarhátíð 2019
. The festival was a homage to experimental archaeology, with a focus on unlocking the secrets of how Icelanders made iron in the Viking age, secrets that have been lost for centuries. We succeeded! The Hurstwic team made bloomery iron in Iceland for the first time in 700 years, using all Icelandic materials in Icelandic-style furnaces based on recent archaeological discoveries. Festival guests not only watched but were invited to participate in the adventure with us. Learn more
about our festival here
, watch a
slideshow that gives a taste of the adventure
, and
watch a segment on the festival
that aired on "Landinn," and Icelandic television show.
Although our formal training program is on hiatus, Hurstwic continues to research and practice the fighting moves of the Vikings. Learn more about our past work and future plans.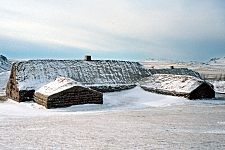 Learn more about Viking-age topics using on-line articles and other documents created by Hurstwic. Whether you are a scholar, a student, or just have a casual curiosity about Vikings, we think you'll find something of interest here.