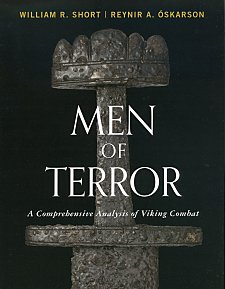 Now available: a new book detailing Hurstwic's research on Viking combat.
Men of Terror, A Comprehensive Analysis of Viking Combat
(
Westholme
2021) is a richly illustrated interdisciplinary study of the heart of Viking society: weapons and combat and is based on more than two decades of research at Hurstwic. The book takes its title from a runestone raised 1000 years ago in Denmark in memory of a man named Fraði, who is called the "first among Vikings" and a "terror of men." The authors present a holistic picture of Fraði's society from what has previously been only disparate and intriguing parts. Order it now from your favorite book seller.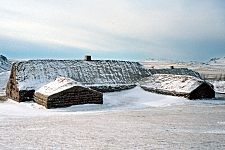 Learn more about Viking-age topics using on-line articles and other documents created by Hurstwic. Whether you are a scholar, a student, or just have a casual curiosity about Vikings, we think you'll find something of interest here.
Although our formal training program is on hiatus, Hurstwic continues to research and practice the fighting moves of the Vikings. Learn more about our past work and future plans.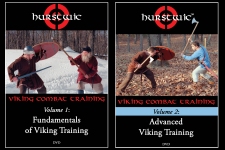 More than ten years ago, Hurstwic created a series of training videos available both on DVD and on-line. Our research has continued in the subsequent years, so sadly, those training materials are now dated. Regardless, we continue to make them available to interested students of Viking combat. One thing that never goes out of date is our official Hurstwic t-shirt.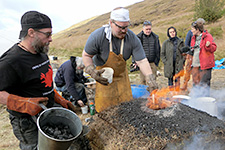 Hurstwic conducted research in Viking-age iron production, which resulted in an iron-making festival held at Eiríksstaðir in Iceland in 2019. We unlocked the secrets of how iron was made in Viking-age Iceland and made bloomery iron in Iceland for the first time in 700 years, using all Icelandic materials in Icelandic-style furnaces based on recent archaeological discoveries.