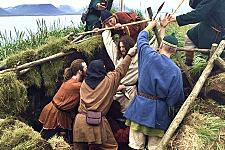 Hurstwic traveled to Iceland in 2016 to shoot our new film,
The Final Battle of Grettir the Strong
. We traveled to the island of Drangey, where Grettir and his brother Illugi lived the last few years of their life. We built a Viking-age turf house on the site, a short distance from the ruins of Grettir's actual house. And then, as the saga describes, Þorbjörn öngull and his men tore the house to pieces to get inside to kill Grettir and Illugi while the cameras rolled. The film is now available on DVD from
Hurstwic
,
Amazon
, and others, or watch it right now on
Vimeo on Demand
. A picture album of our adventure is
here on the Hurstwic site
, and a video showing how we built a Viking-age turf house for our film is
here on YouTube
, and a
preview of the film
is here.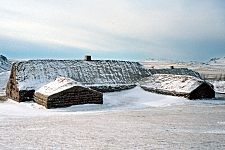 Learn more about Viking-age topics using on-line articles and other documents created by Hurstwic. Whether you are a scholar, a student, or just have a casual curiosity about Vikings, we think you'll find something of interest here.